Our Mission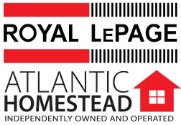 Royal LePage Atlantic Homestead is comprised of over 60 full time professional REALTORS® as well as a dedicated Broker, Owner and devoted support staff. The diversity of our staff has given us exceptional knowledge of the Newfoundland Real Estate market.
As Canada's Real Estate Company, Royal LePage is proudly Canadian. Since 1913, Royal LePage has been helping Canadians buy and sell homes in communities across the country. We are very proud to be a local business with such an iconic, national real estate brand supporting us, our REALTORS® and our clients.
Our mission is to deliver innovative services and market information with superior client satisfaction all the while making a meaningful contribution to the communities in which we live and work. We are proud of the integrity and professionalism of our REALTORS®.
Our Leadership and Management Team
Our leadership and management team includes experienced professionals with decades of combined industry expertise to coach and mentor our team. Our commitment is to provide our REALTORS® with powerful business tools, supported by a strong brand, culture of collaboration and innovation, and have access to the services and leadership they need to be successful in all types of Real Estate Transactions.
Testimonials
" Brahm will be there for you every step of the way. He is very knowledgeable, and will be able to answer any questions you have. Brahm will not stop until you have a home you love. Very thankful to have Brahm as my relator. "
- Sarah Madden
" I could always call upon him for info in helping me make certain decisions that would always benefit me. "
- Corey Noftall
" Brahm knows the St. John's property market inside and out! He is an absolute pleasure to deal with, the utmost professional and we felt very confident in him finding the perfect home for us at the best possible price. We can't recommend him enough! "
- Michael Holden
" 5 Stars-Google Review "
- Zach Goudie
" Ted has been a trusted real estate advisor and helped find the right place for my family and counselled on which to avoid. Highly recommend! "
- Jim Hand
" Marie we really appreciate the time and effort you put into helping us find a new home. You were very professional and always so easy to deal with. It was a real pleasure working with you. Gary & Christine "
- Gary & Christine - June 2014
" Best real estate agent. Highly highly recommend!! "
- Roberta Reid
" As first time home buyers we didn't know anything about buying a home. Marie walked us through all the steps one by one and really made it much easier for us. She didn't try to push us to buy a home that wasn't suited for us. She listened to make sure we would be happy with the home we finally found. We wouldn't hesitate to recommend her to our family and friends. – Susan and John "
- Susan & John - June 2018
" Brahm was a great realtor for a first-time home buyer like myself! He was so accommodating and knowledgeable, and helped me be more informed and comfortable with the process. Brahm was always easy to get in touch with, as well as kind, down to earth and positive. Thanks Brahm! "
- Hannah Curran
" Marie, Thank you for all you did to enable the swift and smooth sale of my father's house. It has been a difficult time for me so I want to let you know how much your knowledge, professionalism and pleasant manner meant to me. -Regards, LB "
- LB - Jan 2016
" Ted is an excellent real state professional, his priority is to make sure you feel comfortable with your decisions. He's really patient and always goes the extra mile to deliver the best value. I was very happy with his work and I'd recommend him to anyone in the market for a new home! "
- Carlos Sanyer
" Brahm was an outstanding buyers agent for me! It took him no time to get a sense for what I was looking for, he was available for questions any time of day, and he provided expert advise and tips every step of the way! I can only recommend him. "
- Christopher Mong
" ed will work for you, He has the best personality and it was a pleasure doing business with him ********** this is 10 stars if you're wondering "
- Gene Hedd
" Ted is incredible! From the early stages to some hardships to eventually closing day that spanned nearly 6 months as our house was being built he was always there. He took time out of his schedule to meet with us and show us the home when we asked. Ted is a down to earth person who truely wants to ensure that his clients are happy every step of the way! if you need a real estate agent to help sell or buy he is the one you should contact! "
- Devin Sooley
" Marie, We cannot begin to thank you enough. Throughout the most stressful moments your positivity and willingness to fight for us was greatly appreciated. We could not have gotten our first home without you! – Justin and Sarah "
- Justin & Sarah - July 2018
" Brahm is an amazing realtor! He is quick to respond to your questions and help out anyway he can! His experience as a contractor proved to be extremely useful when shopping for a home. Brahm is a very honest relator and should be your top choice to help you find your new home! "
- Adam Seymour
" Ted is kind, professional and very knowledgeable. He helped us purchase and sell our first home. I would strongly recommend his services. ***** "
- Rob Dryburgh
" Thanks for everything you've done, Marie, to help us with this purchase...we couldn't have done it without you...and we certainly wouldn't have purchased a house sight unseen if we didn't trust you to work so diligently on our behalf. You are the very best! "
- Liz & Gerry Sept 2020
" When I knew I was ready to buy a home I contacted Brahm right away. His experience as a contractor helped me filter out homes in the downtown core. With homes being 80 yrs old plus it was of a huge benefit to have Brahm's experience. Would highly recommend. "
- Brian
" Looking for realtor? Brahm is your guy! Awesome service, quick replies, very knowledgeable in the industry! I wanted a place as quickly as possible and he helped me find the perfect house in the perfect location with an awesome view! Thank you so much Brahm ! "
- Ashley M
" Thank you Marie for your patience with us during the process of buying our home. Your knowledge helped steer us in the right direction and you helped us realize that its also important to keep in mind re-sale as well as our own individual needs. We wouldn't hesitate to recommend you to our family and friends. -All the best, Susan and Scott "
- Susan & Scott - November 2015
" Brahm helped us find the perfect Airbnb income property in the heart of Quidi Vidi Village. Were from Ontario and it was definitely an added plus to have a contractor who also sells real estate help us find the perfect spot. Would highly recommend and our partners will definitely be working with Brahm on our next Airbnb purchase "
- Ontario Corp.
" Thank you Marie for all your efforts is helping us work through the sale of our home. We especially appreciated your guidance in dealing with the home inspection issues. – Heather and Peter "
- Heather & Peter - Nov 2016
" Brahm is a top notch realtor! Always quick to answer questions and help out anyway he can! He has contractor experience which comes in handy when shopping for a home! He helped us find a beautiful home! If you're in the market for a home! Brahm should be your choice to help you find your new home! "
- Jeff Lavalee
" Originally from Newfoundland, Pat and I are retirees living in Windsor, On. We decided we would love to have a summer home in St.John's and contacted Brahm to help us in our search. Although we initially were looking for a home in St.John's we fell in love with the Bay Roberts area. Brahm went above and beyond and met with our home inspector and even helped deliver some of our personal items on closing day. Thank you Brahm. "
- Bill & Pat Noonan
" Brahm is an extremely knowledgeable agent and very accommodating. He is prompt with responding and goes over and above for clients. I Would definitely recommend Brahm as an agent "
- Daniel Cooke
Previous
Next